How to build your online presence using search engine optimization and Content writing:
.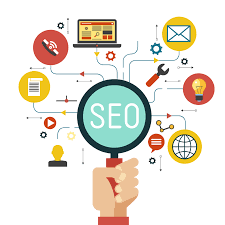 Search engine optimization and content writing are becoming more and more trending these days due to the importance they have for online businesses. People nowadays, rely much more on the web search to get the information they are looking for.
What is SEO:
First of all, we need to understand what web search optimization refers to. This concept is becoming more and more common for web developers due to the exposure they provide for their websites or online apps.
The main aim of SEO is to increase traffic for a website and also improves the conversion rates.
Sometimes, it really matters from where your visitors are coming from. In this case we speak about the quality of traffic, for example, you can have 1000 visitors daily but they are not your target and they are not your potential customers, in that case, it is better to have 100 visitors looking for the content you are writing. Once you provide high-quality content with good readability, you start generating good quality traffic. For some cases, visitors coming through google search or organic search are much better than those coming from social media.
You can improve your SEO by improving your tags in text or images, or even by using top searched keywords, readability and quality content plays to a crucial role. To finish with, we could define SEO as the quality and keywords used in your creative writing. As most of the SEO experts state, we have to avoid duplicate and more on rely on quality content, keywords.
But how we can optimize our SEO.
Here a to-do list, focus on the following things:
- edit content,
-add content,
-HTML, tags,
-use paragraphs,
-heading 1, 2, 3,...
-do keyword research on your topic before starting writing.
-create referral links.
This technique must be learned by anyone planning to do SEO.
There are many agencies providing SEO course and it could be a good idea to start learning it.
The challenge is to understand how search engines work because once you master this you will be 100% sure of website success.
The best strategy is to plan and set short term goals and objectives in terms of content and social media strategy.
The digital marketer tries to understand how the search engine algorithm works. There is a rule but you can understand if you doing well or by observing your results.
The way that algorithm works is not public, and is confidential however you will notice that your website is indexing fast when you use the strategies mentioned in this article.
Why SEO deserves that much attention:
The key to your business success is your online presence. If we take an example of a website selling fitness products or protein bars, being present online will drive customers but also leads, and your business will flourish. In fact, having a higher conversion rate is one of the objectives of any digital marketer.
By targeting some keywords related to fitness, protein, workout you pretty sure that your organic search is on the right way. Your rank will improve too, and not of your links will index fast.
Try to provide the best quality of content writing, make sure that your post adds value to the reader. following this advice, your links are more trustful.
Web Traffic:
You have to understand that most of the web browsers only click on the links in the first webpage. Put your main focus on appearing on the first page. Your odds of receiving clicks when you are on the second page are close to zero.
Moreover, most of the clicks go to the first five links.
If you have a company, it is better to ask a digital marketer to cite your business on Google my business, this way you pretty sure that you will appear on the first page.
Content relevance:
We already spoke about the content quality or relevance, these two criteria will increase your domain name authority and will make your links indexed fast.

Visitors behavior :
One of the most efficient tools that you have to use is Google Analytics.
This tool provides you a full report about visitors behavior (number of pages consulted, bounce page)
You will understand thanks to this report the main reasons why your bounce rate is high, from which page visitors are leaving the website.
In such a situation, you understand how you can manage your visitors' behavior lead them through the website and you will have a higher conversion rate and more page views per session.
Mobile friendly website:
Please bear in mind that most of the visits are coming through smartphones. So, you should ask a web designer to create a mobile friendly template and also responsive.
These a few about what you will need to learn in Seo. However, this a huge domain and is better to ask someone to teach you or to do the SEO in order to reach success.
learn more about Digital marketing and SEO.
---